If there is a skipper among you, this is one to one compared to a normal tourist trip. If you don't have a skipper, you should at least travel all the time to make it comparable to a tourist trip.
Because there is no price for accommodation in the hotel and all travel by buses, but the cost of renting a yacht is added.
In the twenty-first century, it is possible to coordinate very clearly with both boats for rent and boats that simply walk by (and they need volunteers or they are not against paid passengers), and with anyone else in general.
If you still want your yacht for a week, a six-person sailing yacht costs about 1,500 euros a week (and infinitely depending on the region, beauty and comfort), and the skipper starts at 150 euros a day.
It's a bit of an offtopic, but you asked me to tell you about the yachts and I'm keeping my promise.
Where to start.
It's a big boat rental aggregator. There you can choose destinations, see the prices and see if it is worth it or not, for example, to go to Malaysia for New Year's Eve.
We also used brokers from regattafortuna.com. This link is one of the examples of how you can quickly organize a trip to a lot of people at once, so as not to pick up the options and not to correspond with a lot of different people.
After you have approximately calculated a trip, it is necessary to start to look forums and specialised sites on the chosen country. First of all, most likely, it will be possible to find a marina where boats surrender directly without intermediaries. Secondly, you are interested in all sorts of features of the locale, which are not on the global site. Each region has its own nuances.
Then you will need to check the weather (statistical) for the selected period, so as not to accidentally fall into the rainy season or calm. Pay attention to the wind and excitement. Specific data is still available only for 2-3 days, so you are more interested in what happened last year at the same time and what experienced people say on the forums.
Next, just take the tickets with a reserve of one day at the beginning of the trip (to come from the airport and take the boat, it is better to spend the night on it in the marina), and another 2-3 days of the reserve at the end. Because water crossings are not very well predicted due to changes in the wind, and the planned date of return and surrender of the boat may differ from the actual one.
I started this way. A colleague came to me and showed me pictures – yes, the charge of life, yes, islands, yes, freedom. But it's horrible and horribly expensive! Next year, let's do it again, but we're running away together.
About choosing a place and a boat
If you're going in pairs, don't take the boat, take the catamaran. There are usually two or three cabins in a yacht, and they are very common. The catamaran has two hulls, so it is less swinging (which is important to you at first), plus there are four isolated cabins: one at the front and one at the back of each hull.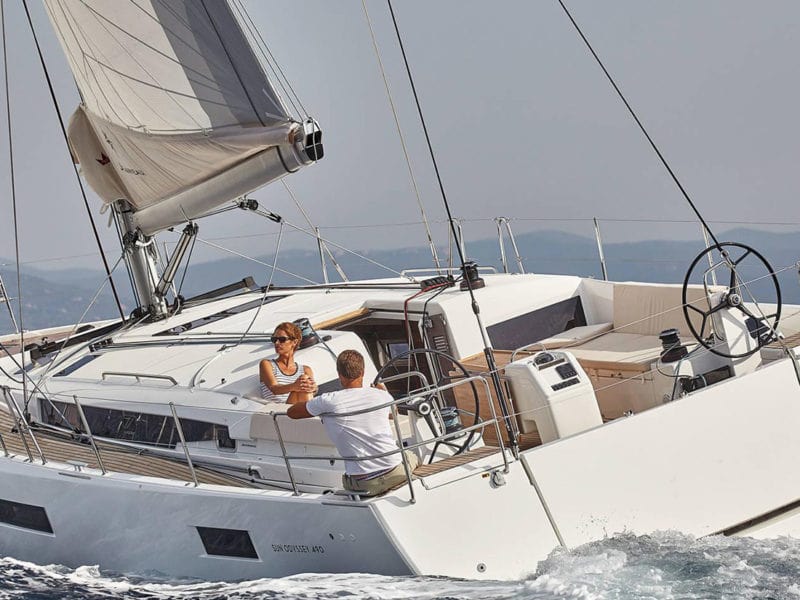 And more space in general. Yes, the catamaran has control features that are best known in advance, but if your skipper is experienced (or you hire him at all), there shouldn't be any problems.
We used to ride four 32-person catamarans when we were organizing our own regatta. The captains were mercenaries, and all four of them were a working team that knew the water area well. One, by the way, was almost a fellow countryman: a Kievan.
We did not hire local skippers, but rather a team, we bought them air tickets. It turns out to be more practical and reliable. Money for so many people is quite adequate.
Do not plan for the first time something long, more than a week is definitely not necessary. Because there are people who fall in love with this way of life almost immediately, and there are those who want to go home in a cozy warm crib, which is firmly on the concrete foundation. And it swings only during earthquakes and explosions, i.e. almost never.
You don't have to know how to swim, but TB has to be ironclad. In particular, wear a vest. It is bright and light. It is given together with the boat. Modern vests do not restrict movements, because they contain compressed air cylinders that inflate the vest when in contact with water.
You can look at it in any plane, taking it from under the seat. Only please do this before departure or after landing so as not to frighten the passengers.
The most interesting thing about impromptu racing is maneuvering. This is not just route planning, but the specific work of the team. On the sail you can hang, lie down, pull, straighten, rotate manually. It gives a concrete effect.
At an average speed with an average wind catamaran we had 12 knots. There were days when the whole day was 5 knots, there was a day when even the knots were not shown, and then there were days when it reached 18 knots.
For safety reasons
Usually there's a desire to celebrate the arrival on the boat with alcohol. At least once we had a tragic birthday for a crew member. Well, you shouldn't do that, because then somebody gets very nervous the next day. Leave the adventure with alcohol at the end of the trip.
Listen to the skipper. And do exactly as he says. Always. It's a traumatic sport, and often injuries aren't where you're waiting for them. For example, when they say not to walk barefoot, it means not to walk barefoot on a boat – and that's it. But people still really break their fingers. There's nowhere to go, but we've got a broken one. There are all sorts of small corners.
Two regattas – two broken fingers. After the first one, usually everyone starts wearing shoes. Shoes also protect against falls. Falling is a risk of breaking your neck or flying overboard. And if you fly overboard, there is a chance that someone will jump behind you on an autopilot. You don't have to do that either. Especially if you two are on watch.